Vision
To be the most sought-after contractor for difficult projects in which meeting the challenges of execution, safety, and schedule set us apart from our competition.
Mission
To provide our clients with the resources to complete their projects - including: water, sewer, and storm sewer improvements; rip rap channelization; concrete structures - safely, on time, on budget, and with high-quality standards.
Welcome to Pate Construction Company
For more than four decades Pate Construction Co., Inc. has consistently delivered high quality federal, state, municipal, and commercial projects throughout Colorado, New Mexico, Arizona, Texas, and Wyoming.
Highly Rated Past Performance – Pate Construction's satisfied customers include the US Army Corps of Engineers, the US Air Force Academy, Cheyenne Mountain Air Station, the US Forest Service and cities and municipalities throughout Colorado and New Mexico.
Excellent Financial Qualifications – Bonded by Wells Fargo and Underwritten by Great American Insurance Company (A.M. Best Rated A+).
Construction Capability
Pate Construction provides successful, time-tested project execution for:
Water, Sanitary Sewer, and Sewer Improvements
Concrete Structures
Roadway Construction and Improvements
Rip Rap Channelization and Drainage Control
Commercial and Institutional Building Construction
We are a minority owned 8(a) Small Business, registered in the federal System for Award Management (SAM) in these NAICS codes. (See Table)
Qualified Leadership – Our Project Managers, Superintendents, Safety and Quality Control personnel have 10 to 40 years of experience. Blue Pate has served as President of the company since 2008. He has more than two decades of experience in the construction industry and expertise managing multi-million dollar local, state, and federal projects.
Skilled Labor Force – The majority of Pate Construction's highly-skilled workforce have been with the firm 20+ years or are second-generation employees. We keep good people by offering great benefits, competitive salaries, well-maintained equipment, and a safe working environment.
Safety – Pate Construction employs independent safety consultants for job site inspections and conducts annual training to ensure our projects have stringent oversight. Due to an excellent accident prevention program, a demonstrated commitment to protecting employee welfare, a drug abuse program that is among the strictest in the State of Colorado, and an exceptional safety record, Pate Construction is Cost Containment Certified.
Services
Heavy Civil and Waterway Construction – For more than four decades Pate Construction has delivered high quality construction throughout the Colorado Front Range, and has executed well over 3,000 projects including extensive river drainage, floodplain, and waterway construction. Our recent relevant experience:
$8.5 Million McKinley Channel Demolition and New Construction
$4.5 Million SW Valley Rio Grande Flood Damage Reduction Project
$3.2 Million Capitol Peak Road and Tunnel Construction
Underground Utility Capability – Pate Construction experience with underground utilities installation and restoration spans multiple decades. Recent projects:
$6.6 Million Los Alamos National Laboratory Utility Upgrade
$4.3 Million Arkansas-Penrose New Raw Water Pipeline
$3.3 Million Cherokee Water District 24" Transmission Main Installation
$2.0 Million West Mesa Industrial Park Wastewater Improvement
$1.9 Million Fort Carson Area 4000 Sanitary Sewer Repair and Replace
Design-Build and Value Engineering – Pate Construction recently completed a $3.2 million design-build road for a US defense agency. The project entailed construction of a 2,300 LF road on the side of a solid granite mountain with a 1-to-1 slope. Time was critical to meet testing deadlines. To expedite completion, the Pate Construction team re-engineered the road to ensure the project was delivered on-time and within budget.
Heavy Demolition Capability – Pate Construction has crushed concrete slabs as part of street, bridge, and deck demolition. Our McKinley Phase VI project required 12" deck demolition in 16'x10' sections.
Project Management
Pate Construction frequently self-performs in excess of 75% of any given project to include Project Management, Site Superintendence, Safety, and Quality Control.
Each project professional is carefully matched with job requirements to ensure precise project execution and to maintain a continuous line of authority and responsibility for the duration of each project.
Risks to the safe, on-time, and on-schedule delivery of projects are carefully mitigated as part of Pate Construction's initial project planning and scheduling process.
Pate Construction has demonstrated successful risk mitigation expertise for:
Critical schedule deadlines
Tight budget restrictions
Environmentally sensitive locations
Coordination with multiple federal agencies
High-level security clearance requirements
Remote locations with difficult access
IDIQ Awards
$275 Million Front Range SABER – A 5-year contract providing new construction, renovation, repair, maintenance, and design-build projects for the US Air Force Academy, Cheyenne Mountain Air Force Station, Fort Carson, Pueblo Chemical Depot, Peterson AFB, Schriever AFB, FE Warren AFB, and Buckley AFB.
$160 Million R&D Test Article Construction Services – A 10-year contract performing heavy civil and underground construction projects at White Sands Missile Range.
Pike & San Isabel National Forest Road Construction – A 5-year contract performing forest road repair and maintenance.
Colorado Springs Utilities Water Main Replacement Services – A 5 year contract participating in the renewal of approximately 60-70 miles of 6" to 42" diameter existing potable water distribution pipelines and infrastructure within the city of Colorado Springs.
Contact Us
Pate Construction Co., Inc. is prepared and ready to fulfill your utility and civil construction requirements – today.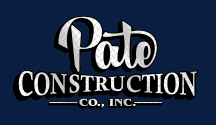 Address
Pate Construction Co., Inc.
87 N Mission Dr
Pueblo CO 81007

Phone: 719-647-0463
email: info@pateconstruction.net